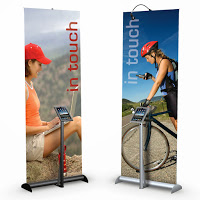 One of our most popular display products is retractable displays. We have clients who use them for conveying a message in retail settings, stores, meetings, and tradeshows. They come in a variety of widths, heights and colors. Sometimes we print the graphics on vinyl, layflat film and fabric. Depending on the client's needs and application, we try to find the best solution. I have been looking for a solution for a way to offer a retractable display that also accommodates a tablet to create some interactivity. I am glad to say we have finally found one as shown below.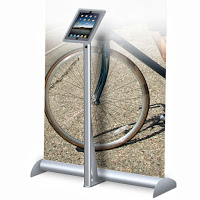 Hybrid Pro Tablet Mercury Retractables
Mercury Retractable Banner Stand
IPRY1 single sided 36″
IPRY1-HC single sided w/hard case 36″
IPRY3 single sided 24″
IPRY3-HC single sided w/hard case 24″
Infinite height adjustments 36″ to 96″
Very lightweight & portable
Instant set-up and take-down
Telescopic pole system
Aluminum construction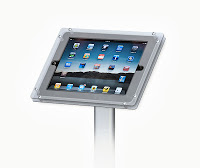 Tablet Enclosure and Stand
Tamper proof screws ensure secured enclosure
High impact acrylic cover
Included USB cable runs from the top through the upright,
down to the base
Tablet rotates from portrait to landscape
Anti-theft hardware
Metal back, upright & base
Satin silver or matte black finish
Integral USB cable set included with all units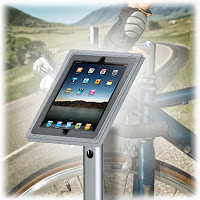 Custom quantity quotes available for any brand tablet or device.
Note: Pro iPad and Hybrid Pro Tablet Stands not compatible
with iPad 1 or iPad Mini Tablets not included.
Specify Tablet* (same cost)  -I iPad 2 or 3 -G Samsung Galaxy 10.1
Specify Color* (same cost) -S Satin Silver -B Matte Black
Specify Hardcase Option* -HC Hardcase kit