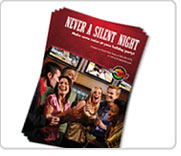 Everyday I field requests via phone calls, emails, walk ins and text messages from clients asking about imaging solutions for projects they are working on. These requests vary from display boards for meetings and presentations, banners for events and special offers, portable displays for events and trade shows to ways I could not have imagined. Other times the requests are along the lines of a need about printed materials ranging from business cards, letter heads, envelopes, brochures, postcards and direct mail programs. Every situation is unique and is best addressed via a dialog to make sure the right solutions are offered. I thought it might be helpful to share some examples in the form of a situation and possible solution approach.
Situation:
I need display boards for a meeting or event and the usage will be for a very short time.Common Solution
If the size of the display board is under 20″ x 20″ we usually suggest going with 3/16″ foam core. It is a very low cost solution. If the size is bigger, then we usually suggest going with 1/4″ Foam Core because it is a little more stable. Foam core in general is susceptible to humidity and oftentimes will bow or curl a bit at the larger sizes.
Situation:
I need display boards that will be used for a long time or handled many times.Common Solution
This is always tricky. Any type of foam based display board such as foam core or gator board will age and show dings from usage when handled. For this reason we usually look at solid plastic materials like sintra and/or acrylics instead. These materials create rugged display boards that hold up well even after many uses but the downside is they are heavier in weight. Depending who has to carry them around and how they will be used, this may or may not be the best solution as a result.
Situation:
I need a banner for an event.Common Solution
Banners can be produced in most any size and on a variety of materials. If the usage is short term and indoors, then we usually suggest printing on 13oz scrim matte vinyl banner material. This is a low cost solution that offers nice quality and is very durable. If the banner will be used outdoors, then we almost always want to hem the edges and add grommets. That adds a day or two to production time and a few extra dollars but it is the best way to make sure the wind does not ruin the banner when in use. Sometimes a vinyl banner solution may not be ideal so in those situations printing on fabrics may be better. In general I recommend vinyl for out door use and vinyl or fabric for indoor use. Printing on vinyl is generally lower in price than fabric so oftentimes that is a determining factor too.
Situation:
I'm going to a trade show and need a display.Common Solution
This is the most complex request to work through and takes the most time. In order to suggest the best solution we need to really understand what the display will be used for and what the desired outcome from the display's use will be. Sometimes a table top solution is what is needed because of the situation and show requirements. Other times the client needs to make a statement and stand out from the crowd in order get noticed. In this situation it usually requires a bigger display and completely different approach. There are also times when the need and situation is bigger than I feel comfortable handling and then I recommend a custom display house because they offer CAD renderings for ideas, custom everything, transportation, on site site set ups and take downs, storage and labor management.The other major factor is budget. We need at least a range in dollars from high to low in order to set parameters for what types of display solutions are even worth considering. If the amount is less than $1000 then table tops displays and banner stands are usually the way to go. If the amount is between $1000 and $2500 then back wall pop up displays become a great option. When the amount is $2500 to $5000 then we can start to add accessories such as flat screens, monitor stands, self standing kiosks, counters, etc. When the budget is over $5000 then more custom and or custom looking solutions are possible. We have a great tool to help clients answer the dreaded "How much did you plan on spending question?" Go to http://designsearch.composingroom.com/ and click on the tabs such as price and display type and this service presents a nice range of options from a preset list. This is by no means all inclusive but it is a great place to start.
Situation:
I need business cards.Common Solution
Business cards can be printed on a variety of stocks such as uncoated cover, coated and matte paper stocks. They can be 1/Sided or 2/Sided. They can be normal size or custom size with or without rounded corners. They can require special inks and color match or be printed full color via digital print methods. Depending on the answers to the above options we may or may not have the right solution. In most cases we print business cards via our digital print service so it can be 1/C, 2/C or Full Color and the price is the same irregardless of the number of colors. I prefer uncoated paper stock so if the recipient of the card wants to write a note on it, they can without issues. Sometimes pens don't write so good on coated stocks but it is of course a preference that can be based upon many factors. That is why we have to ask and understand.
Situation:
I need posters.Common Solution
This is always a fun one. The answer and direction for helping with this request is to understand how the posters will be used. If the size can be under 12″ x 18″ then our digital press works great for qty's up to around 2000. If the size is larger in nature such as 22 x 28 in size, then qty becomes the next determining factor. If the qty is less than 100, then digital printing of the posters will be the way to go. If over 100 qty, then usually printing via our dedicated offset print equipment is the most cost effective. When printing digitally, the type of paper can greatly affect the price. If you want best quality then printing on photo paper is the way to go. If you want good quality but the lowest price, then uncoated paper is a great choice.
Situation:
I am thinking about producing postcards. What are our options?Common Solution
We print lots of postcards, sell sheets, brochures, pocket folders and direct mail packages. When working with postcard requests the quantity needed plays a very large roll in determining the best approach. If the qty needed is less than 2500 and the message is static (the same on every card) then digital printing is usually the most cost affective approach. If the qty is larger, then offset printing may be give the lower price. Another important factor is how the content of the postcard affects the outcome and approach. With digital printing you can personalize each and every card by merging content from an excel file to vary the message via text, photos or both on every card printed. If this increases the response rate then the added cost may be the difference between having the effort succeed or fail. As with all marketing efforts, having the right message at the right time to the right person at the right price makes all the difference. If you have a postcard or literature package that achieves these points, then you have a very high probability of a successful campaign.