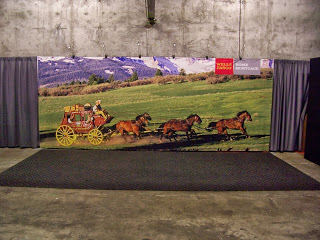 You never know where new ideas and innovation will come from. A few years ago I met with a client who said she needed a backdrop for a tradeshow show she was managing. She described many things about what she wanted it to achieve and then at the end she said "I want it to fit in my luggage" when I go. I was taking notes and forming ideas that were quickly shattered when I heard the "fit in my luggage" part.
We have lots of terrific options for back drops and displays but they all have structures involved to  make them self standing none of which fits into a person's suitcase. I thought maybe the client was just kidding about the luggage part but as I delved further asking more questions I quickly learned
she was serious. Her desire was to have something that was super portable, light weight that she could literally take with her to shows and not have to rely on anyone else.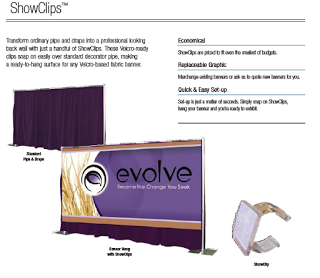 After much thought we found a solution that is now becoming one of our more popular offerings. Here is how we do it. We image a large fabric backdrop on a nice soft fabric that easily folds down to fit in nearly any suitcase or carry bag. The tricky part is we sew a Velcro liner on the back top of the fabric. We then provide special "show clips" that simply clamp onto standard pipe and drape that is provided at nearly all tradeshow events. It works in 3 easy steps. Attach the show clips to the pipe and drape provided, take out our fabric banner and then attach it to the clips and that is all there is to it. You can make your banner 10' wide, 20' wide or more. If you are looking for a low cost, light weight and extremely portable back drop solution, this is an option worth considering.