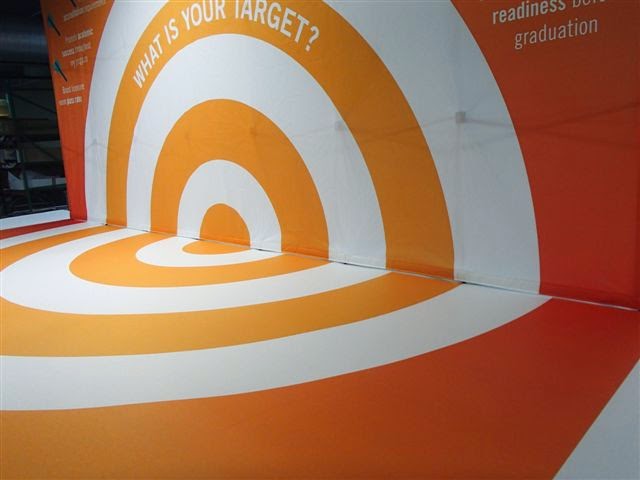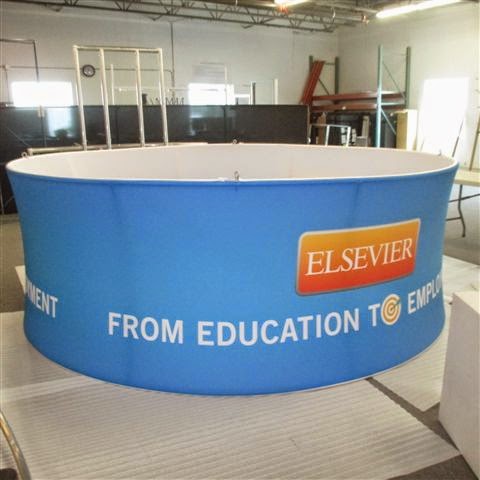 We had the good fortune to assist a client with several
items at their last trade show conference. I thought it would be fun to show
several of the items produced and how the designer used many interesting
affects to tie it all together. What made this project especially unique was
building a 20' back wall with full graphics that had to match up with a 20'
carpet with a circle target spanning across the two. Pictured here is the 20'
V-Burst
with matching carpet that was all printed digitally to create the
attention grabbing affect of "Wow… What is going on here?" to draw people in.
In addition to the graphics on the floor and the display
itself, we also produced the 10' wide
Aviator
overhead circle structure so the
client's booth would stand out from far and near as show goers moved about the
show. The branding on the overhead structure created the attention getting tie
in to what was below. The areas within the large space used
Banshee
bowflags to
create interesting branded markings within the space to spark conversation and
convey additional resources available. If you have an idea for creating a
unique display, let us know what we can do to assist.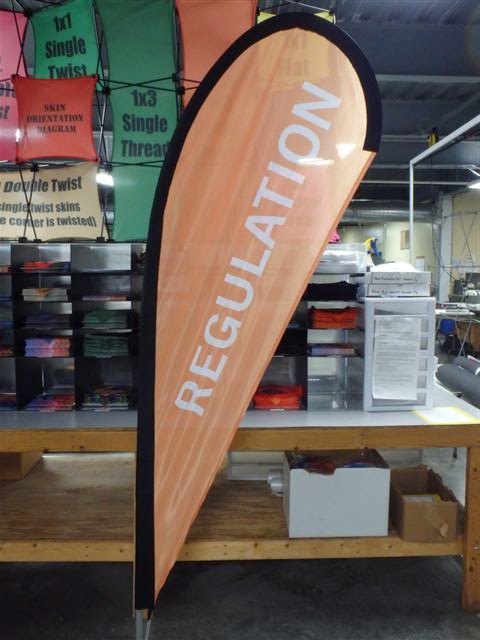 Aviator Overhead Circle Additional Info: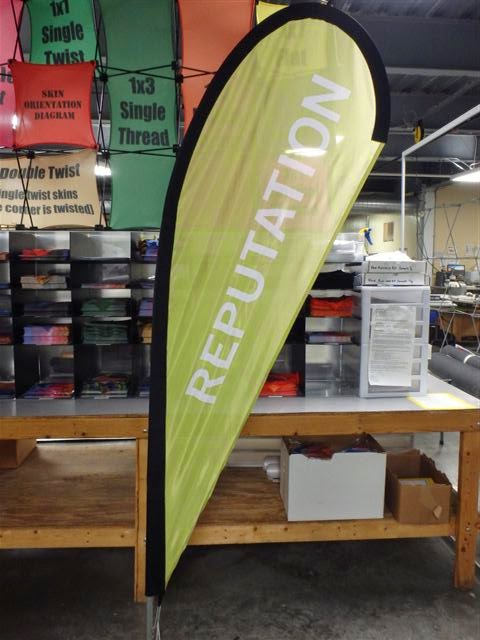 Aviator
Hanging Fabric Structures present your brand or convey your message fast, up high and from all directions. Available in exciting shapes and practical sizes to meet any trade show or event need. Constructed from the highest quality lightweight materials, the Aviator frame assembles with push button connectors. No tools are ever required. The structure is skinned with the very best tension fabric graphics! Superior fabrics, zippers and sewing techniques ensure that your display will bring many years of use. Our unmatched dye sublimation printing is guaranteed to make your images stand out on the show floor. Aviator is effective, adaptable, easy to set-up and affordable. Aviator Hanging
Circle is a trade show and event standard. The Circle is one of the most popular shapes and with good reason – it offers unparalleled 360 brand or message visibility
V-Burst Additional Info: The VBurst™ is a fabric pop-up system with a fabric graphic already attached to the frame using Velcro. It is available as either a flat wall or curved display. The VBurst™ graphic is a Kaleidoscope Select™ or Colossus™ dye sublimation fabric graphic. When the unit is set up, the graphic unfolds with the frame and stretches to form a completely smooth image across
the entire display. The VBurst™ can be purchased with or without end panels. End panels are simply a wider graphic wrapped around the ends of the pop-up frame. The VBurst™ system comes with a nylon-carrying bag. Adjustable feet are included on each unit. The VBurst™ frame can be purchased without a graphic.
Banshee Bowflag Additional Info: The Banshee kinetic banner system is designed to be used indoors or outdoors in most weather conditions. The six unique shapes are designed to give you a variety of options to display your marketing message at Events, Trade Shows, Promotional Marketing and more. The Banshee uses the Pennant fabric process which is a Kaleidoscope Select process that uses full saturation so your message bleeds through and can be seen on both sides of the display. This system has two mechanisms to handle wind: a bearing polypropylene bushing allowing the graphic to rotate out of the wind; but equally important is that the top baton section bends at the same time as the whole unit swivels out of the wind and therefore handles gusts from any direction very well. Banshee is a simple, durable and effective banner system. The Banshee comes with a ground stake. Additional ground stakes as well as the indoor-use Cross Base and Square Base are sold separately.
Instep Carpet Additional Info: Print Process: Dye Sublimation, Available Widths: 118" max Material Surface: 1/8" thick Polyester Felt, Backing Material: 8oz. rubber to reduce sliding. In Step carpet graphics are perfect for any indoor event or
trade show environment. Use them for full color exhibition flooring, mats,
carpet tiles or runners to direct your audience and promote your product.