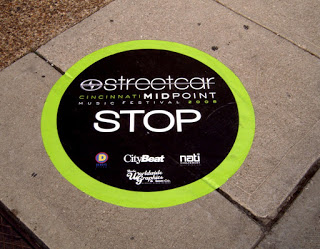 If you are looking for a low cost quick solution to make your message stand out from the crowd, place a graphic where they walk. Recently I have had clients asking for graphics that can be used outdoors on concrete for short term promotional use. As a result I began an R&D quest to find the best way to approach these requests. What I learned are there are many approaches to achieve this. There are low cost very short term solutions and then there are much higher cost longer term graphics solutions.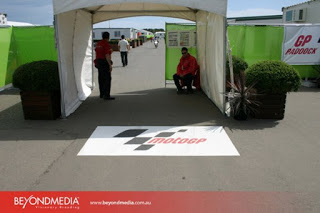 On the low cost approach, it turns out we already stocked a material called Arlon 8000 for use in our digital printers which is actually made to have a very high tac adhesive backing for rough surfaces such as concrete, blacktop, asphalt and even brick. If the graphic will be exposed to foot traffic, then we can apply our floor guard over laminate to protect the graphic and keep it from tearing if someone kicks or steps on rocks over the graphic. If the size is not too big, it is really very easy to peel off the liner on the back of the graphic and then place it on the ground. When the time is right to remove the graphic, just peel it off and discard.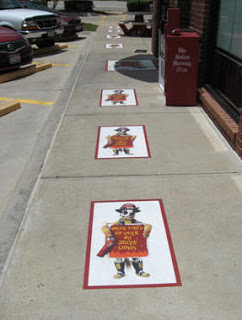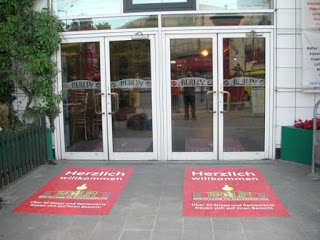 Think of these as temporary stickers/decals designed to adhere to asphalt, sidewalks, concrete and other outdoor surfaces. You can also use streetag on verticle surfaces such as concrete columns.
Applications: Benefits:
• Cost Effective  • Street Fairs • Long Lasting
• Low Minimums • Community Events • Works in Inclement Weather
• No rush or set-up fees • Directional Signage • Easy to Install and Remove
• Fast Turns • Eye-catching Sidewalk Graphics
• Attention Grabbing
• ATM or Restroom Directions • Custom Shapes Available
• Concert Promotions
• Event Registration
• Welcome to Event
• Unique Guerilla Advertising